2017 Articles
{beginAccordion h3 open}
Synergy 50+ Club Rings in the Holidays
Our Synergy 50+ Club enjoyed an evening of holiday cheer and delicious food at our annual Ring in the Holidays event.
Guests sampled dishes from more than 30 local restaurants and viewed Christmas gift items from local retail stores. All vendors who participated were also Synergy Bank customers.
The entertainment for the night kept everyone dancing. A Very Merry Almost Elton John Christmas featuring Craig Meyers featured the best of Elton John hits and beautiful Christmas music. It was a wonderful night that left our guests in the Christmas spirit.
Our 50+ Club events are open to all of our customers with personal accounts who are 50 years of age and older. Be on the lookout for your invitation in the mail.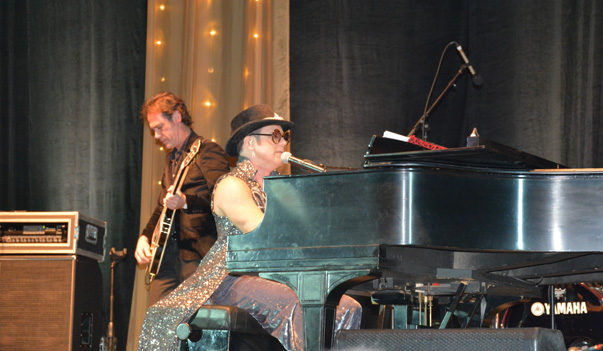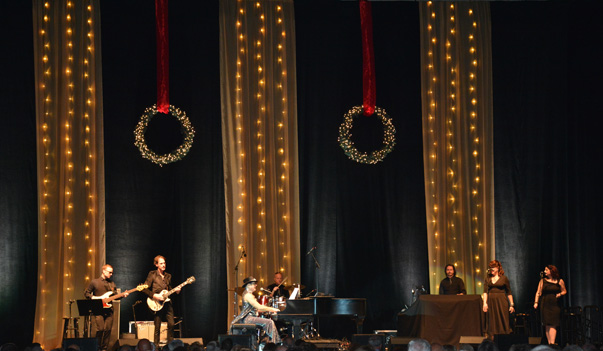 Local Businesses and Community Pack the Bus for Local Students
Houma, LA – Synergy Bank and United Way of South Louisiana coordinated a multi-parish school supply drive to benefit children in need in Terrebonne and Lafourche parishes. With the help of the community, they were able to collect thousands of school supplies to be delivered to local schools.
"Thank you to everyone who donated. The school supplies that were collected will definitely help the students become successful in the classroom," Untied Way Executive Director Alina Merlos said. "With the right tools, these kids are better prepared, and that will help them excel in the coming year."
If in need of school supplies, parents can request supplies by contacting the following representatives: In Terrebonne Parish: Kwanzaa Bolden at 985-879-6400 ext. 264; In Lafourche Parish: Quentina Brown 985-532-2508.
Donation bins were set up at businesses throughout Terrebonne and Lafourche parishes. Community members were encouraged to donate new school supplies such as colors, scissors, loose leaf paper, and glue. The donations were then sorted by type of supply and sent to the Terrebonne and Lafourche Parish School Boards to disperse among the elementary schools.
Many local businesses participated and assisted with the Pack the Bus School Supply Drive by serving as a drop off location, donating supplies, or donating in-kind services. Those partners were Advanced Physical Therapy, Bayou Dental Care, Bayou Country Children's Museum, Busy Bee Clinic, Cannata's, Chick Fil A, Fletcher Technical Community College, Gulf South Employer Services, Jake's Uniforms, Lafourche Parish Libraries, Lanaux & Felger CPAs APC, LOOP, Meyer Financial Group, New York Life, Nicholls Alumni Federation, Nicholls Student Union, Pelican Waste, Raising Cane's, REECO Rental, Rosemary's Soul Food Kitchen, Rouses Market, South Louisiana Bank, Stephanie Hebert Insurance, Synergy Bank, Terrebonne General Medical Center, Terrebonne Parish Government, Thibodaux Chamber of Commerce, Thibodaux Regional Medical Center, and United Way for South Louisiana.
"Synergy Bank is proud to coordinate the Pack the Bus School Supply Drive with United Way for a third year," Jerry Ledet, Synergy Bank President and CEO, said. "We have been actively involved in financial education in many schools through our Partners in Education program so it was only fitting that we continue our work in supporting local schools with this campaign."
The community can find more information and post pictures of their donations to our Facebook page at facebook.com/BayouPackTheBus. If you would like to sponsor or assist next year with the Pack the Bus campaign, please contact United Way of South Louisiana.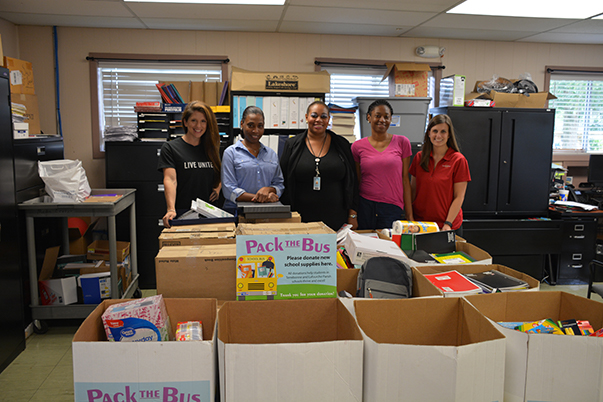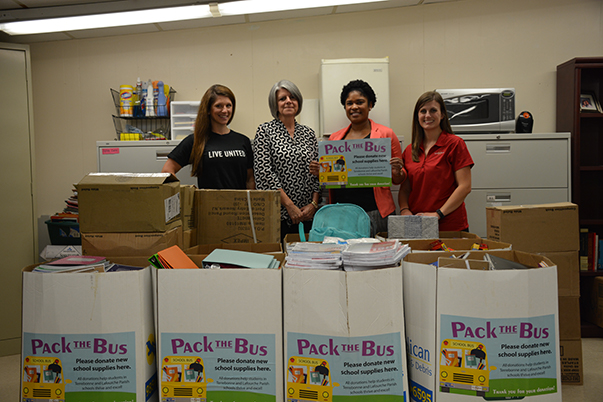 Pack the Bus School Supply Drive to Help Local Students
Synergy Bank and United Way of South Louisiana are coordinating their third annual school supply drive to benefit local children and schools during the month of July. The supplies collected will be given to local students in Terrebonne and Lafourche Parish schools.
"There are many children in our communities whose families simply cannot afford the proper school supplies needed," United Way Executive Director Alina Merlos said. "By giving a child these supplies, we as a community can help these children not only be prepared but give them the confidence to thrive."
While all school supply donations are appreciated, some of the most needed items are colors, pencils, color pencils, scissors, loose leaf paper, spiral notebooks, binders, glue, glue sticks, rulers, construction paper, pencil bags or pouches, and school bags.
Donations can be made at our Pack the Bus Partner locations:
Bayou Country Children's Museum – 211 Rue Betancourt • Thibodaux
Busy Bee Clinic – 172 New Orleans Blvd • Houma
Cannata's – 1977 Prospect Blvd and 6307 West Park Ave • Houma
Chick-fil-A – 1741 MLK Blvd • Houma
Gulf South Employer Services – 195 Corporate Dr • Houma
Thibodaux of Commerce – 318 East Bayou Rd • Thibodaux
Lafourche Parish Libraries – All locations
Lanaux & Felger, CPAs, APC – 5579 Hwy 311 • Houma
Meyer Financial Group – 132 Rue Colette St • Thibodaux
New York Life by Walton Guidry – 588 Corporate Drive • Houma
Nicholls State University – Alumni Services and Student Union • Thibodaux
Raising Cane's – All locations (East Houma, Houma, Thibodaux)
Rosemary's Kitchen – 3059 West Main St • Gray
REECO Rental - 1762 Canal Blvd • Thibodaux
South Louisiana Bank – 1362 West Tunnel Blvd • Houma
Synergy Bank – All locations
Terrebonne Parish Government Tower – 8026 Main Street • Houma
United Way for South Louisiana – 600 Academy St • Houma
The drive will take place during the month of July. All donations stay in Terrebonne and Lafourche parish and directly benefit local students. To find more info or to post pictures of your donations, visit facebook.com/BayouPackTheBus.
Synergy 50+ Club Enjoys Annual Shrimp Boil
The Synergy 50+ Club was treated to another wonderful event in June at our annual shrimp boil.
Our 400 guests enjoyed succulent shrimp with all the fixings, as well as a delicious slice of bananas fosters cake. Nationally-known impersonator and musician Johnny Counterfit provided the entertainment. His impersonations of favorite characters and figures from the past kept everyone laughing throughout the night.
If you'd like to attend a 50+ Club event, invitations are sent to all Synergy Bank customers who are ages 50 and older. Be on the lookout for your invitation in the mail.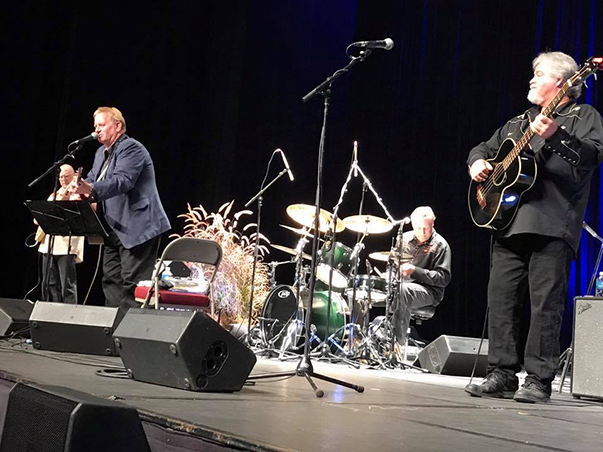 Ann Summers Earns Retirement Income Certified Professional® (RICP®) Designation
Houma, LA – April 3, 2017- Ann V. Summers, Financial Consultant has earned the Retirement Income Certified Professional® (RICP®) professional designation from the American College of Financial Services, Bryn Mawr, PA.
The RICP® educational curricula is the most complete and comprehensive program available to professional financial advisors looking to help their clients create sustainable retirement income. The rigorous three –course credential helps advisors master retirement income planning, a key focus area not fully covered in other professional designation programs. From retirement portfolio management techniques and mitigation of plan risks, to the proper use of annuities, employer-sponsored benefits and determining the best Social Security claiming age, the RICP® provides a wealth of practical information for advisors.
Individuals who earn an RICP® can provide expert advice on a broad range of retirement topics including income needs and objectives, estate issues and other risks to the retirement income planning, Social Security, health insurance, housing decisions, and income taxation.
Ann Summers, CRP®, RICP® is a Financial Consultant and the Program Manager for Synergy Investment Services at Synergy Bank. She assists clients with investment and wealth management strategies. Her emphasis is to help clients work towards achieving their retirement income goals. She can be reached at 985-851-5459 or ann.summers@lpl.com.
Securities offered through LPL Financial, member FINRA/SIPC. Insurance products offered through LPL Financial and its licensed affiliates. Synergy Bank and Synergy Investment Services are not registered broker/dealers and not affiliated with LPL Financial.
Online Banking Update
We are happy to announce that we have made some updates to Synergy's online banking system. Some notable changes other than our new sleek, easy to read design includes:
You can now enter your username and password from the Synergy Bank website.
You can perform most functions from the home screen.
You can filter your transactions to see pending, posted and scheduled.
eStatements are now called documents under the accounts page.
Your spending chart can be found by clicking the "categorize" button under the accounts page.
There is now an option to hide accounts from the homepage view.
Easily update password, security questions, email address and phone numbers from profile page.
If you have any questions about our updated online banking system, please email our eBanking team at ebanking@banksynergy.com or call us at 985-851-2217.
What browsers/versions will provide the option for TLS 1.1 or higher?
The browsers listed below are certified and tested for use with Synergy's online banking. These browsers will support the option to use TLS 1.1 and higher.
BROWSER
Internet Explorer (Versions: 9, 10 & 11)
Chrome (Versions 42, 42 & 43)
Firefox (Versions: 36, 37 & 38)
Safari (Versions 7 & 8)
Are all operating systems (OS) capable of upgrading?
Windows XP and Windows Vista are only capable of upgrading up to Internet Explorer 8. Users of XP and Vista may utilize Chrome and Firefox.
How can I check if I'm compatible?
To test for TLS 1.1 compatibility, open https://www.ssllabs.com/ssltest/viewMyClient.html within your web browser. The resulting page will look similar to the screen shots below. The protocol support box will help you determine if your browser is compatible.


or


Can I access online banking through my mobile device?
If you are using a mobile device and your browser is out of date, you will either have to update the browser app or the OS version of the mobile device. Check to ensure that your current OS version is compatible. Compatible OS versions are below:
DEVICE
Android (Version: Level 20 and above)
Apple (Version: iOS8 and above)
Synergy Bank Hosts Grand Opening Extravaganza for South Acadia Office
Houma, LA - The community is invited to join Synergy Bank in celebration of their sixth location with free food, live music, door prizes, and a fireworks display at their South Acadia Office Grand Opening.
The fun will begin at 5:30 p.m. on Thursday, March 9th at Synergy's South Acadia Office, located at 1070 South Acadia Road in Thibodaux.
"We're excited to bring this second location to serve Thibodaux," Jerry Ledet, Synergy Bank President and CEO, said. "We are looking forward to celebrating with the community and showcasing what our South Acadia Office has to offer."
Live music will be provided by the local band Caro & Company, as well as the lively New Orleans favorite Kinfolk Brass Band. Bayou Community Academy Choir and E.D. White High School Jazz Band will also perform.
While there, guests can register for a variety of door prizes from local restaurants and stores, as well as the Grand Giveaway - a $500 VISA® Gift Card. The event will conclude with a grand fireworks display at 7 p.m.
Synergy Spreads Love and Kindness in Community
Houma, LA – Synergy Bank is spreading love and kindness in the community during Random Acts of Kindness Week.
The plan is to start a ripple effect of good deeds by doing thoughtful acts and encouraging others to "pass it on." Synergy employees will be handing out free items to unsuspecting recipients throughout the week. These items include cash, VISA® gift cards, movie and museum tickets, and more.
In an effort to spread love even further, Synergy is offering a prize to those who help them share kindness in the community. Anyone who posts their own good deed or random act of kindness on Facebook with the hashtag #SynergySpreadsLove will be entered for a chance to win a $50 VISA® gift card. When posting, be sure to make the post "public" so that your entry can be seen (you can do this by selecting "public" in the bottom right hand corner before you post.)
"At Synergy Bank, one of our values is that we show kindness to everyone we come in contact with," Jerry Ledet, Synergy Bank President and CEO, said. "The #SynergySpreadsLove campaign is just another way that we can show our love to the community and encourage others to do the same."
For more details on how Synergy Bank is spreading love in the community, visit their facebook page at www.facebook.com/SynergyBank.
ATM and Mobile Deposits Cut Off Time Extended
The cut off time for deposits made through Synergy Bank ATMs, Mobile Deposit via Synergy Bank's consumer and business Mobile Apps, and Merchant Deposit Capture for businesses has been extended to 6 p.m. Deposits made through these services will be posted on the same day. As with all deposits, please note that funds may not be available for immediate withdrawal as noted in our Funds Availability Policy. If you have any questions regarding any of these services, please contact us at 985-851-2217.
Synergy Bank Wins Fan Favorite at SOUPer Bowl
Synergy Bank was a proud participant and sponsor of the SOUPer Bowl, the annual fundraiser for United Way for South Louisiana.
Synergy's SOUPtini was voted Fan Favorite for the second year in a row. Our SOUPtini featured delicious potato soup served in a martini glass, complete with a flaky pig in the blanket garnish. Guests could also relax and enjoy the Synergy VIP tent, complete with a bar and tables.
It was a fun day for our Synergy volunteers to come together and help our community.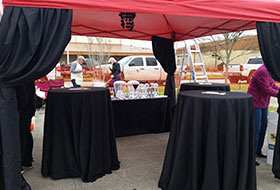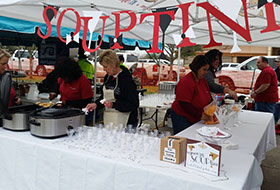 Synergy 50+ Club Visits The Lion King
The Synergy Bank 50+ Club traveled to New Orleans to enjoy a stunning performance of The Lion King by Broadway Across America. Our guests marveled at the beautiful costumes, puppetry, and sets of the Disney classic in great orchestra level seating. The performance was truly one-of-a-kind.
Before lunch, our 50+ Club visited the prestigious Windsor Court Hotel for a delicious lunch. Located steps outside the historic French Quarter, our guests enjoyed an amazing four course meal prepared by the Windsor Court's award-winning chefs while overlooking the Mississippi River and beautiful New Orleans city skyline. A surprise visit by the Rag-a-Muffins, a trio of young barber-shop style singers, delighted our group throughout lunch.
Want to join us at our next 50+ Club event? All of our customers who are ages 50 and older receive an invitation in the mail. Be on the lookout for our next event.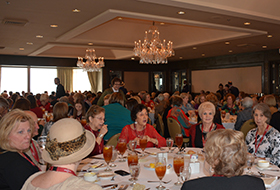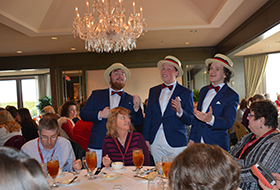 {endAccordion}